yayy! congrats to katie! email me for confirmation!!
----------------------------------------
one of my favorite things to give babies at baby showers [and to buy for bridgett] are
shoes
.
the
funkier the better
.
aren't these ones especially fabulous?
a super new shop we just found!
because her shoes are so adorable.
especially these purple ones on bridgett's toesies.
i love them because once tied around her ankle they don't fall off [finally a pair that stay on!]
bridgett
loves to kick her feet
& watch the red buttons move.
you can have a pair too [!]
or take them to your next baby shower,
because we are doing a

GIVEAWAY!
get 1 entry for each of the following:
1. visit
wych hazel
, come back & comment on your favorite item.
2. comment on any post on this blog this week.
4. follow little wellies on
twitter
.
5. update your facebook status with links to this giveaway.
6. update your twitter with links to this post @bylittlewellies.
7. follow this blog.
8. put this blog button on your blog.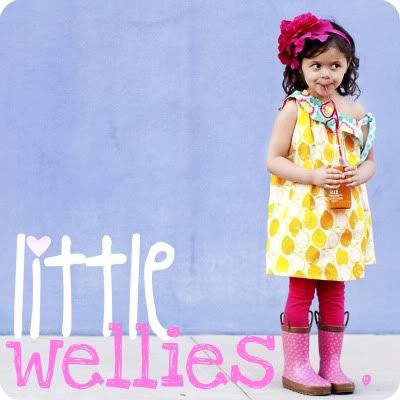 please leave a separate comment for each entry so we don't miss any!